CM Foam Mixer
The CAMPEN CM foam mixer is designed for extremely light densities and compound with constant density.
The mixer works very efficiently and operates with a very low amount of foaming agents.
As with all CAMPEN mixers, the density and output are controlled fully automatically. The mixer is synchronized with the line speed so that its production quantity automatically adapts to the speed of the line. For foaming of chemicals the volume of foamed output can be even higher.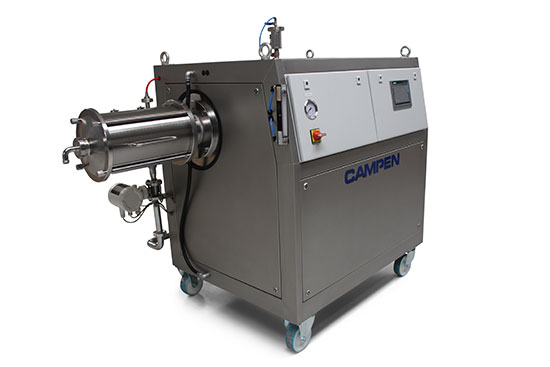 CAMPEN automatic CM foam mixer
Max. foam output: 20,000 l/hour
Max. output: 600 kg/hour
Accuracy, latex compound: ± 1%
Accuracy, additives: ± 1%
Operating range: 1:10
Accuracy, foam weight: ± 5 g/l
Repetition accuracy: ± 1%
Fully automatic dosing valve
Remote control
Monitoring of foam bank / level
Water-cooled mixer head (rotor / stator)
Automatic control of foam volume or foam quantity
Recipe handling
Sequence with individual parameters for cleaning
Electric / pneumatic three-way valve for cleaning
Monitoring of the load of the mixer head(s), with alarm limits
Communication via Ethernet to a host computer or Internet connection
External cooling unit