Winding & Packaging of Carpet Rolls
In-line carpet winders and packaging machines must be configured correctly before being integrated into backing lines so that the work process can take place in the most ideal way.
Capacity – cycle time
It is essential to choose the right solution / degree of automation to ensure that the winding and packaging section does not become a limiting factor for the backing line.
Roll quality
Often, the product variety is the greatest challenge. Therefore, it is important to know the product range when winder and possible options are to be chosen.
Packaging: quality and costs
Packaging of carpet rolls can be performed in different ways, and CAMPEN offers various solutions that each meets the customers' requirements for quality, costs, efficiency etc.
Watch above video as an example of a supplied winding and packaging solution for carpets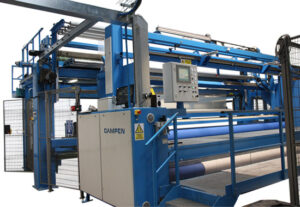 Economical and fully automatic packaging with CAMPEN's winding and packaging machine for tufted carpets and artificial grass
Automatic or manual roll start
Automatic or manual cross cutting
Surface winding
A combination of surface and center winding
Packaging through manual plastic film wrapping or automatic feed of the carpet roll into the plastic film curtain
Separation of length slit carpet rolls prior to packaging
End sealing, possibly including the possibility of roll handling through lifting of the winding core
Plastic film in full or variable width up to 7.5 m