Airlaid Technology from CAMPEN: Flexible, Efficient and Sustainable Production Solutions
Uncover the potential of airlaid technology, whether you're new to this sector or looking to expand your knowledge.
Airlaid technology is used to produce a highly absorbent, soft, and flexible non-woven material, which is used in variety of industries ranging from hygiene products to automotive interiors.
What is Airlaid?
Airlaid is a nonwoven fabric made by dispersing fibers in an air stream and condensing them onto a moving belt through air pressure. Unlike traditional woven or knitted fabrics that interlace yarns, airlaid materials offer a web-like structure. This allows for a high level of absorbency and tensile strength, making it ideal for products like baby diapers, feminine hygiene products, cleaning wipes, and even certain types of insulation and filtration applications.
With CAMPEN's airlaid technology, expertise, and knowledge of Airlaid process, we also offer our customers a sustainable alternative to traditional plastic and cardboard packaging products for the food industry.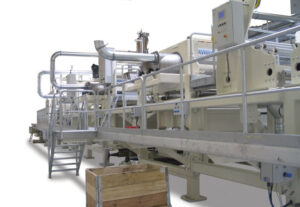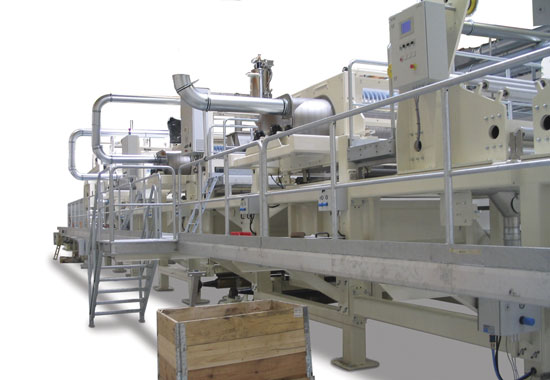 CAMPEN offers high-quality machinery and expert knowledge within airlaid production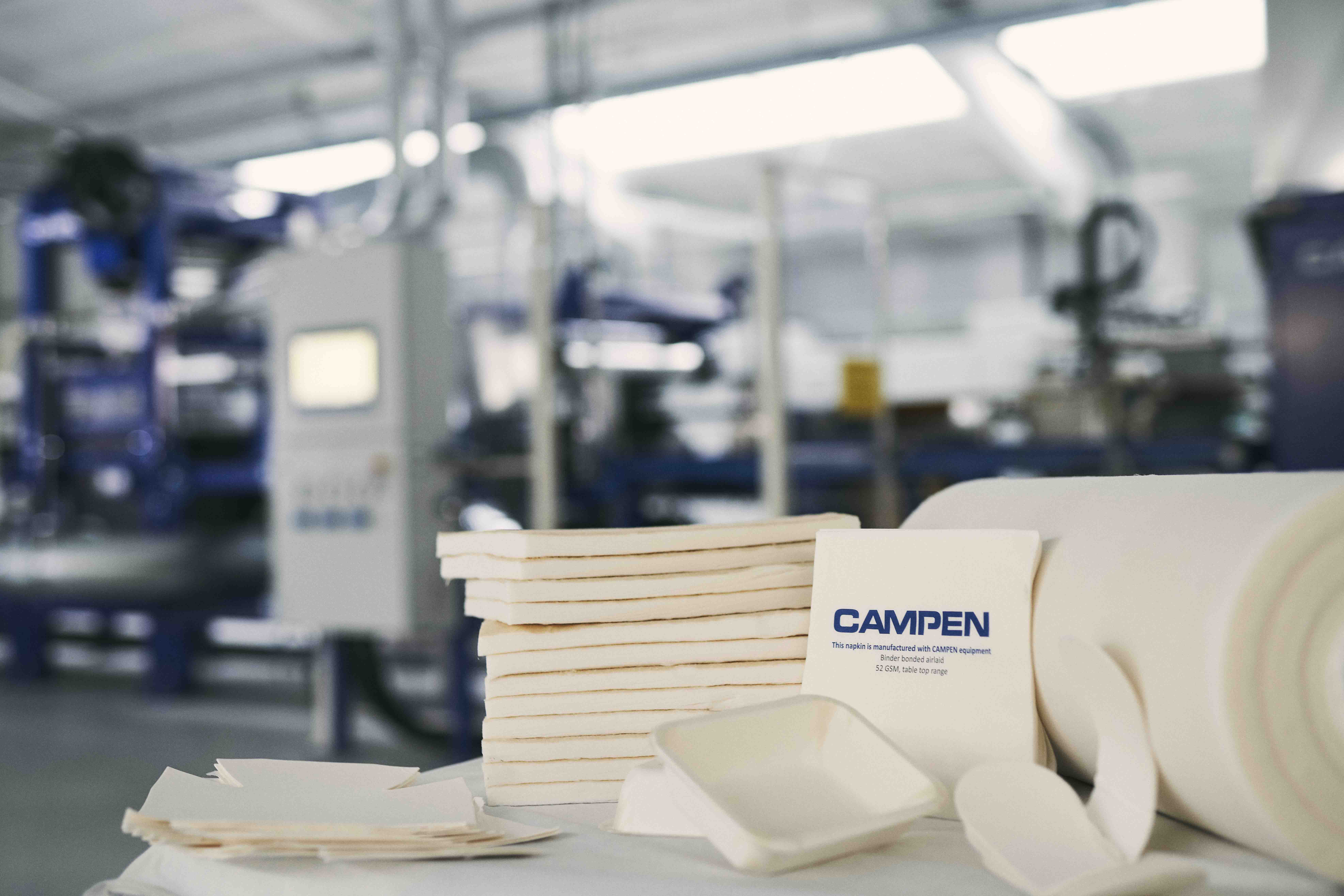 With CAMPEN's airlaid machinery you can produce traditional airlaid products as well as sustainable airlaid products – both through a more energy-efficient process as well as through the use of natural and biodegradable raw materials
Why Choose Airlaid?
High Absorbency: Airlaid materials can absorb multiple times their own weight.
Soft and Flexible: Airlaid fabrics are incredibly soft and can easily adapt to various shapes and forms.
Sustainable: The process can incorporate recycled or natural fibers, offering eco-friendly options. In contrast to the water-intensive processes used in traditional paper and card-board production, the Airlaid process relies primarily on air. This significantly reduces energy and excessive water consumption in the production process. Furthermore, since the Airlaid technology is crafted from natural wood fibers, the material is 100 % compostable and biodegradable.
Customizable: Additives like superabsorbent polymers, fragrances, or anti-bacterial substances can be easily integrated into the airlaid material during production.
Key Ingredients in Airlaid Production
 Fibers: Cellulose, wood pulp, synthetic fibers, or a mix, are the main ingredients.
Bonding Agents: Latex or other thermoplastic materials are used to bond the fibers.
Additives: Superabsorbent polymers, anti-bacterial agents, etc., depending on the end-use.
Natural fibers: Our R&D team has successfully conducted prototypes using natural fibers such as straw or algrea into the airlaid web, which makes for sustainable end products using natural fibers.
Waste fibers: Our R&D team has also successfully conducted prototypes with waste fibers from production, such as cardboard and paper scraps. Airlaid technology can therefore also be used upcycled products.
Application of Airlaid Material
Packaging and Food Applications
Our airlaid technology provides a versatile solution for packaging materials and food applications, offering exceptional softness, absorbency and barrier properties as well as high-quality, sustainable and compostable solutions.
Hygiene and Personal Care
CAMPEN's airlaid lines deliver exceptional performance and superior softness for hygiene and personal care products, ensuring comfort and reliability.
Medical Applications
With our advanced airlaid technology, we provide a reliable platform for manufacturing medical products that meet the stringent quality and safety standards of the healthcare industry.
Airlaid Process Combinations
We specialize in integrating the airlaid process with other drylaid forming technologies, enabling customized solutions to meet unique manufacturing requirements.
Embark on a more efficient and sustainable future
At CAMPEN, we go beyond providing machinery and production lines. Our dedicated team is committed to guiding and consulting our customers on business development, helping them achieve more efficient and cost-friendly production processes. We understand the growing demand for sustainable products and work closely with our clients to develop solutions that align with their sustainability goals, whether through upcycling, use of waste fibers or use of natural fibers like hemp or straw.
Join us on this journey of innovation and discover how our airlaid technology can revolutionize your production, enhance product quality and drive your business forward in an ever-evolving market.
>> Learn how we have helped others towards meeting their airlaid production targets