CE Foam Mixer
Foaming of natural / synthetic latex or adhesive
The CAMPEN CE foam mixer is used for foaming of natural / synthetic latex or adhesive for productions using up to 6,000 litres of foam per hour.
The supply of air, latex compound and dosing additives is continuously measured, and the flow rates are automatically adjusted.
Constant compound density
Before the foaming process, the density of the latex compound is measured in the CE foam mixer. Consequently, the preset values in g/m² or kg/h as well as the foam density required are kept constant irrespective of possible deviations in the production speed, the output of the mixer or the density of the latex compound.
These automatic adjustments ensure an efficient and uniform foaming process, which will reduce the latex consumption and improve the quality of the final product.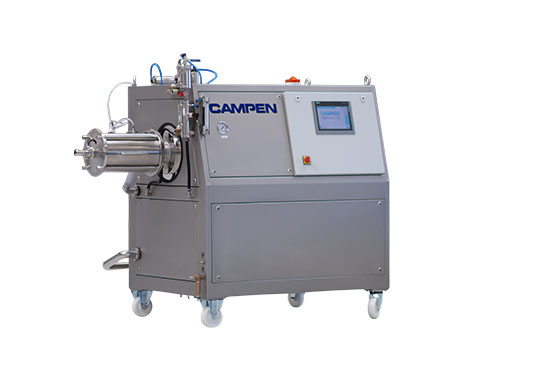 CAMPEN automatic CE foam mixer
Max. foam output: 6,000 l/hour
Max. output: 5,000 kg/hour
Accuracy, latex compound: ± 1%
Accuracy, additives: ± 1%
Operating range: 1:10
Accuracy, foam weight: ± 5 g/l
Repetition accuracy: ± 1%
Up to three dosing pumps for gelling agents, dyestuffs etc.
Fully automatic dosing valve
Remote control
Monitoring of foam bank / level
Water-cooled mixer head (rotor / stator)
Automatic control of foam volume or foam quantity
Recipe handling
Sequence with individual parameters for cleaning
Electric / pneumatic three-way valve for cleaning
Monitoring of the load of the mixer head(s), with alarm limits
Communication via Ethernet to a host computer or Internet connection
External cooling unit