Back coating of artificial grass
In many ways, back coating of artificial grass is comparable to that of tufted carpets.
CAMPEN has developed and supplied equipment for artificial grass production since the beginning of the 1980s. Consequently, we have gathered wide experience throughout the years to meet the special demands of artificial grass production.
Perforation for necessary drainage
When laying out artificial grass, it is necessary to ensure that the rain water can pass freely through. Therefore, CAMPEN has developed a roller with electrically heated perforating copper points, which not only make the necessary holes, but also melt the edges of the holes so that the primary backing remains as strong as possible.
Winding of artificial grass
The pile height of artificial grass ranges from a few millimeters up to 70 mm, with and without the possibility of infill at a later stage. This means that the challenges may vary according to the different types. In order to meet the challenges in question, CAMPEN supplies both semi- and fully automatic winders with combinations of center drives, surface winding and exact tension control ensuring an optimum roll quality for all product types.
Temperature-sensitive monofilament yarns
Modern artificial grass types are particularly temperature-sensitive. Consequently, increased demands are made on vulcanizing dryers as far as protection of the pile side against too high temperatures is concerned.
Therefore, CAMPEN's dryers are designed with optimum air and temperature separation between the carpet back and the pile side. Depending on the carpet quality, a temperature difference as high as up to 70°C can be reached between the two carpet sides. Moreover, it is possible to supply separate fresh air onto each side of the carpet.
It is undoubtedly an advantage that the temperature on the wet back can be increased without damaging the pile side, which significantly increases capacity.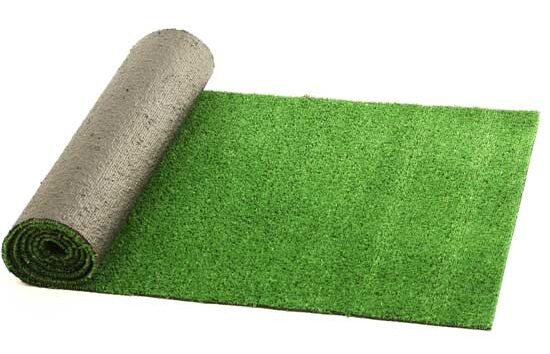 CAMPEN multipurpose backing line for back coating of artificial grass as well as tufted, needle felt and automotive carpets