Airlaid Batch Binders: Achieving Efficient and Accurate Binder Mixing with CAMPEN Foam Mixers
In the world of airlaid production, achieving efficient and accurate binder mixing is crucial for ensuring high-quality and reliable results. The CAMPEN foam mixers come in various versions, enabling precise dosing and foaming of binders, additives and water for optimal performance in your airlaid production processes.
Adaptable configuration for your production set-up
The CAMPEN foam mixers can be easily adapted to meet the specific requirements of your airlaid production set-up. With their versatile configuration options, these mixers seamlessly integrate into your existing machinery, enhancing overall efficiency and productivity. Whether you need to mix binders, additives and water in a separate blending tank or incorporate the mixer into a pumping unit and spray application unit, the CAMPEN foam mixers provide a customizable solution tailored to your needs.
Efficient and uniform foaming process
The CAMPEN foam mixers excel in delivering an efficient and uniform foaming process. With their advanced technology, these mixers ensure consistent and precise dosing of latex or other binders, resulting in a well-controlled and uniform foam formation. This process optimization contributes to the overall quality of the airlaid fabric, enhancing its performance and functionality in various applications.
Considerable savings in compound usage
By utilizing CAMPEN foam mixers for binder mixing, you can achieve considerable savings in compound usage. The accurate dosing and density control capabilities of these mixers significantly reduce the window of tolerance, resulting in precise output and reduced waste. With a smaller "plus / minus window" in production, you can maximize material efficiency, minimize costs and optimize your overall manufacturing process.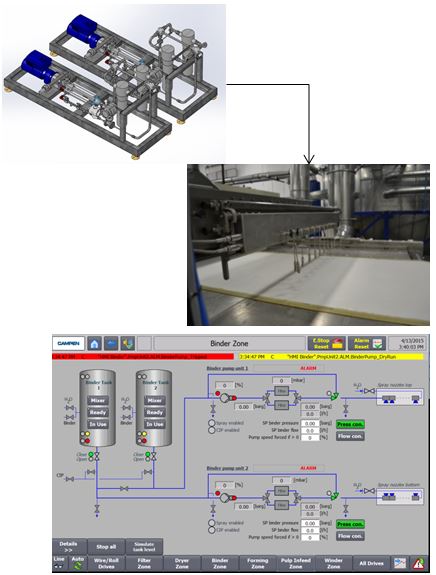 Pumping unit with an AC driven mono pump with variable speed regulation
Flow indication with readout of current flow
Pressure measuring with readout on the overall control panel
The pump output is automatically controlled to reach a certain pressure in order to give a uniform spray pattern on the fabric
Duplex filter unit, one for each pump, with differential pressure switch with alarm. Filter size: 50 microns
With automatic or manual changeover
In case of a short line stop, the pump will automatically run at minimum capacity in a bypass loop to prevent clogging of binder inside the pump
Manually operated CIP system
Capacity: up to 10,000 l/hour per batch
Improved airlaid fabric quality
The utilization of CAMPEN foam mixers in your airlaid production translates to improved fabric quality. The precise and controlled dosing of binders ensures consistent and reliable bonding throughout the fabric, enhancing its strength, integrity and overall performance. With a high degree of reliability and uniformity, you can meet the stringent quality standards of your customers and achieve greater satisfaction in the end product.
User-friendly machines with easy integration
CAMPEN foam mixers are designed with user-friendliness in mind. These machines are intuitive to operate, allowing for seamless integration into your production line. Their straightforward controls and ergonomic design facilitate efficient use and maintenance, ensuring smooth operations and minimizing downtime.
Experience the advantages of CAMPEN foam mixers
With CAMPEN foam mixers, you can achieve efficient and accurate binder mixing in your airlaid production. Benefit from their efficient foaming process, substantial compound savings, improved fabric quality and user-friendly operation.