Airlaid paper for sustainable packaging
CAMPEN has successfully developed a technology where waste fibers or other natural, fiber-based waste products can be used in the airlaid process to make a variety of 100% natural and compostable packaging products. This can contribute to building a circular economy in the packaging industry where waste products from production can be upcycled into new products.
What is airlaid paper?
Airlaid is a textile-like material made of natural wood fibers, also called fluff pulp. The fibers are formed in our airlaid process and consolidated with mechanical, chemical or thermal energy to form a nonwoven fabric.
The airlaid process creates a very bulky, porous and soft material, which is much stronger than standard paper, even when wet.
Environmentally friendly production process
Traditional wet processes use an extensive amount of water to form paper and cardboard, whereas the airlaid process transports and handles the fibers solely by process air and thereby only uses a minimal amount of energy since much less or no water has to be evaporated.
The production process of airlaid products is thereby much more environmentally friendly than the traditional wetlaid process.
Airlaid paper entering the packaging industry
Airlaid technology is already used for a large number of everyday products such as napkins, diapers, tablecloths, sanitary napkins, meat packaging, wet wipes and other.
Since plastic is on its way out of the packaging industry, more and more packaging companies look to the airlaid process and dryforming technology for alternatives.
New technology and machinery within the airlaid industry has given us the potential to process many different type of fibers and fiber lengths, such as wood pulp and natural fibers, but also bonding fibers, viscose fiber blends as well as waste fibers from the packaging industry.
Airlaid process for biodegradable trays
Biodegradable trays can be made of 100% natural fibers (either 100% cellulose or 50% cellulose and 50% straw or other natural fibers) which are thus completely plastic-free and 100% compostable. The trays can be combined with a 100% natural coating to make them fully water repellent. CAMPEN has developed this process to produce trays for e.g. vegetables and fruit, which are also suitable for home composting.
Circular economy with waste fibers
Cardboard scrap material can be combined with fluff pulp in an airlaid process and produced into various green materials – for example into a soft, flexible and strong airlaid paper, which can be used for packaging. By using waste fibers from e.g. an internal production, packaging companies can save money on waste disposal of excess cardboard or other waste fibers – while at the same time producing new, environmentally friendly alternatives to plastic and cardboard packaging products.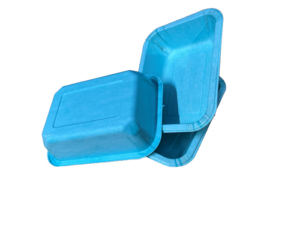 Example of trays made by dry forming an airlaid nonwoven sheet
Groundbreaking airlaid test center in Denmark
CAMPEN welcomes international companies to their own hosted airlaid test center, which is available for rent to test new products, fiber combinations and applications as well as for product development purposes. The CAMPEN pilot line can handle anything in a fiber form or fiber-based material – challenge us.
Contact our Senior Airlaid Specialist to talk about how airlaid paper can be applied in your production or to test your products at the airlaid test center.
>> To learn more about our test center, visit: https://campenmachinery.com/airlaid/test-center