Calendering & web cooling for airlaid production
Calendering: enhancing airlaid web integrity and versatility
Calendering plays a pivotal role in airlaid production in order to ensure the cohesion and adaptability of fiber webs. By subjecting the webs to a combination of heat and high pressure through specialized rollers, calendering achieves multiple objectives. Not only does it effectively weld the fiber webs together, but it also enables web embossing and facilitates precise thickness adjustments.
As a result, airlaid products attain superior structural integrity and desired characteristics. Furthermore, after passing through the calender unit, an essential step follows: web cooling and moisture addition, which contributes to optimal product quality.
Web cooling: mitigating static electricity for flawless airlaid production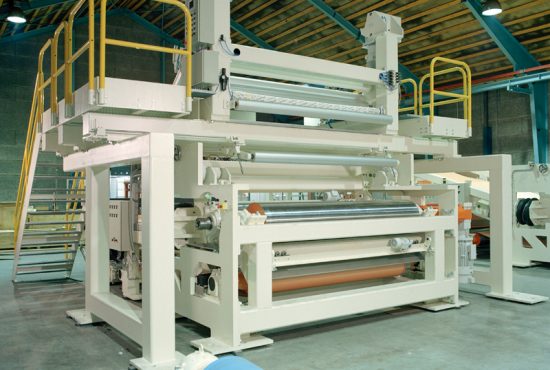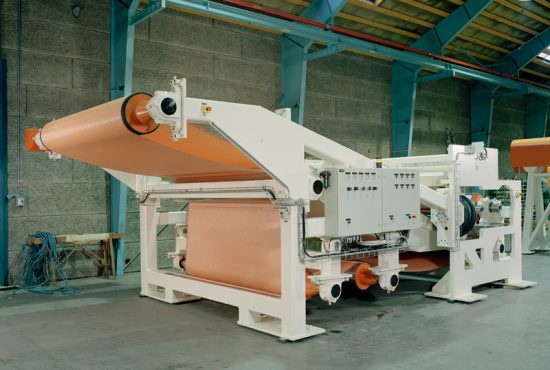 Thermally oil-heated roller with separate nip adjustment on both sides
Doctor cleaning plate to clean the roller
Option: engraved, heated roller
Working width: up to 5000 mm
Line speed: up to 600 m/min. (depending on the product and process)
To address the challenges posed by static electricity during airlaid production, a comprehensive solution is imperative. Our cutting-edge set-up integrates a hot-roll calender and a dedicated web cooling station, complemented by a state-of-the-art product moisture system. This unique combination is purposefully designed to minimize static electricity-related issues, particularly during the winding process. By incorporating a thermally oil-heated roller with separate nip adjustment on both sides, our system ensures precise control over temperature and pressure, resulting in superior product outcomes.
Additionally, a doctor cleaning plate is incorporated to maintain roller cleanliness and prevent any potential contaminants. For enhanced versatility, we offer the option of an engraved, heated roller, tailored to your specific production requirements.
Technical specifications: high-performance airlaid production equipment
When it comes to airlaid production, efficiency and productivity are paramount. Our calendering and web cooling system delivers exceptional results while maintaining optimal operating parameters. With a working width of up to 5000 mm, our equipment accommodates a wide range of production needs. Additionally, our system boasts a line speed of up to 600 m/min. (depending on the product and process), ensuring swift and seamless production while adhering to the highest quality standards.
By leveraging our advanced airlaid production solutions, you gain access to cutting-edge calendering and web cooling technologies. Our industry-leading equipment, combined with expert knowledge and experience, guarantees exceptional results in terms of web integrity, static electricity reduction and overall production efficiency. Trust us to optimize your airlaid production process and elevate the performance of your products. Contact us today to discuss your specific requirements and let's join forces to unlock the full potential of your airlaid production line.