Foam foulard
To apply foamed binder on both sides of a pre-bonded airlaid material at the same time in the rate and volume required.
The foam foulard process is integrated with the well-known CAMPEN mixer where communication and monitoring ensure that the rate of binder is regulated and kept constant according to the absorptivity of the nonwovens, the line speed and foam weight.
Learn more about the CAMPEN mixer here.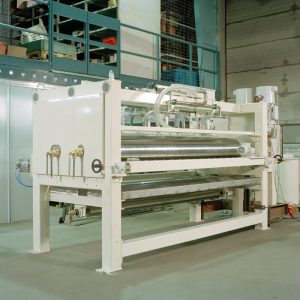 Water-cooled roller with separate nip adjustment on both sides
Driven foam distribution nozzle system and with adjustable edge limit posts
Driven application rollers of stainless steel
Doctor cleaning plate to clean the cooled roller, including a drip plate for liquid
Option: engraved, water-cooled roller
Working width: up to 5000 mm
Line speed: up to 200 m/min. (depending on the product and process)