West trusts CAMPEN Machinery A/S for long-lasting and efficient winding and cutting of rubber rolls
CAMPEN Machinery A/S has a long-standing partnership with West Pharmaceutical Services in Horsens, Denmark. CAMPEN is known for its expertise in winding technology for the nonwoven industry and is a reliable supplier of cutting machines for cutting of rubber rolls to West.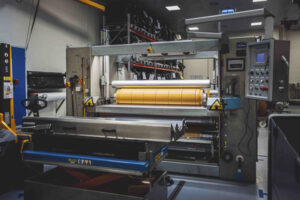 Designed to meet hygiene requirements
To date, CAMPEN has delivered several machines to West for cutting of rubber rolls. These machines are designed to meet the stringent hygiene requirements and higher focus on efficiency and material savings that are essential in the pharmaceutical industry. The machines rewind and cut rubber rolls, which are then stamped out and used as top seals in medicine vials.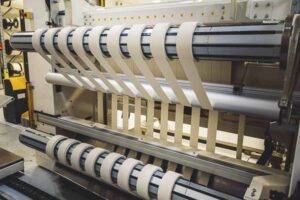 Reliable and durable converting technology
CAMPEN's extensive experience in producing nonwoven converting machinery has been a significant asset in its ability to transfer this technology to the pharmaceutical industry. CAMPEN is known for its ability to produce reliable and durable machinery, as evidenced by the fact that even the machine delivered to West in 2005 is still running and has maintained its efficiency and performance over time.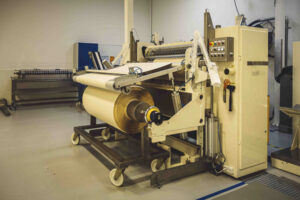 Experts in tension control
An Van Nguyen, CAMPEN's Sales Manager, highlights CAMPEN's expertise in cutting systems and tension control, which has been crucial in the successful implementation of these machines. He further notes that: "The more elastic a material is, the harder it is to control in the tension section, and this poses great demands on the tension control and thus the motor control with the load cell, which determines how hard the material should be pulled."
Overall, CAMPEN has proven to be a reliable partner for West, delivering top-of-the-line machines that meet their needs and expectations. The combination of experience, knowledge and innovation makes CAMPEN a valuable asset to any company in the pharmaceutical industry and nonwoven converting business.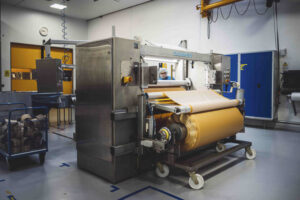 See more about our winding and slitting competencies here: