High-end winding technology helped Minet take over their home market for DIY geotextiles
Converting mother rolls to small sales rolls with CAMPEN winding technology
When the DIY market grew explosively during the COVID-19 pandemic, Minet, Romania's biggest supplier of nonwovens, saw the need to convert big mother rolls of geotextiles to small sales rolls in order to stabilize their core business as well as meet end users needs and requirements for smaller sales rolls.
Therefore, they searched the market for an automatic slitter / rewinder as an extension of their 2021 needle punching line for producing felt and geotextiles for the construction, automotive, filter, agriculture industries etc. In this process, they consulted their customers and the suppliers of their other nonwoven lines, where several parties recommended CAMPEN Machinery A/S.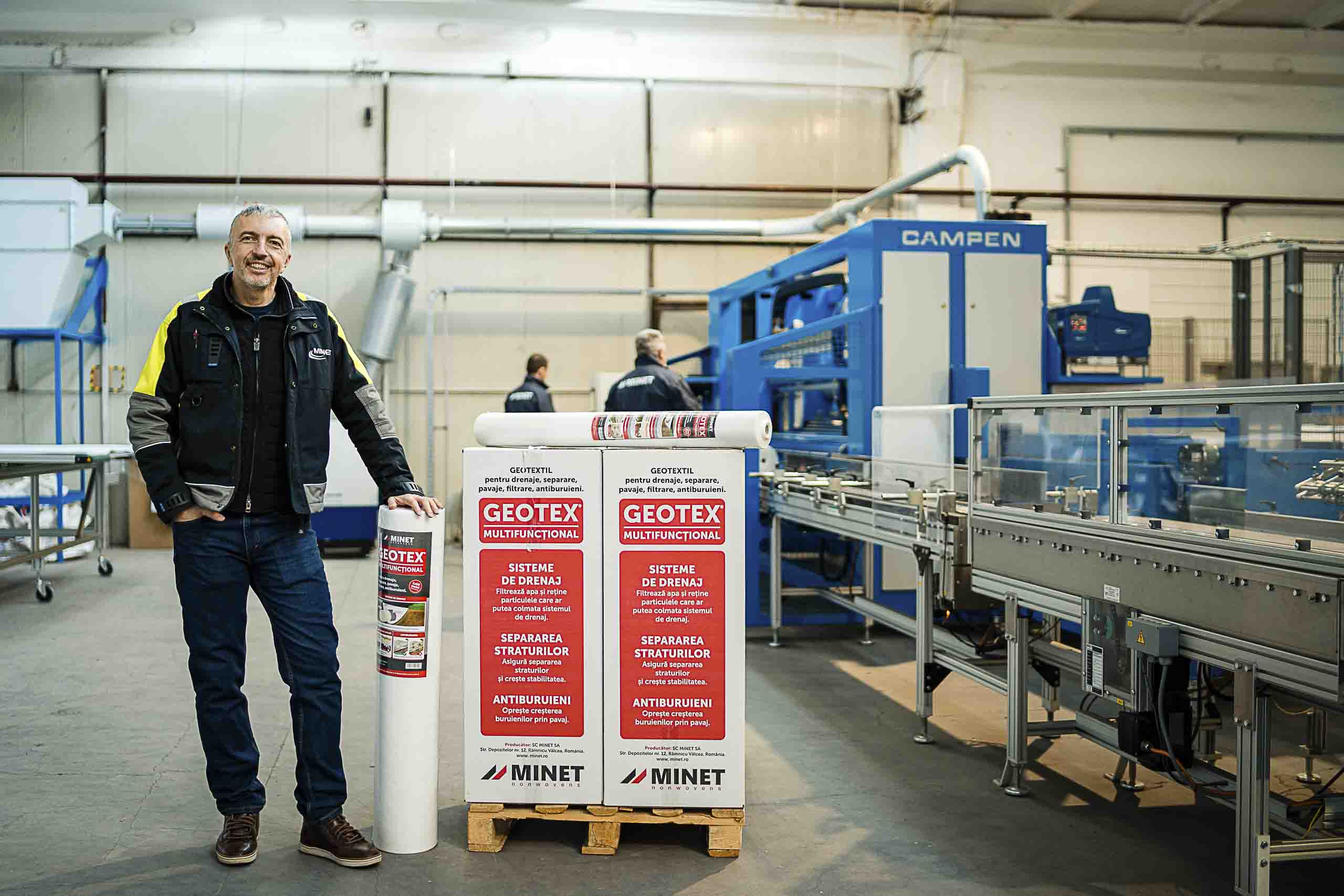 Technical know-how and willingness for customized solutions
They found the perfect solution at CAMPEN Machinery A/S. "We chose to work with CAMPEN because of their high level of technical know-how, which was backed up by a solid reference list. Also, they were able to cut the nonwoven in sheets on the same line, which was an important requirement for us," Cristian Niculae, Commercial Director of Minet, explains.
The cutting into sheets facility was a customized solution. The solution consists of a roller table and conveyor belt for finished sheets, which can be added to the machine with easy and fast connection and conversion from sheets to rolls and vice versa.
Minet quality products demand state-of-the-art technology
During recent years, Minet has invested massively into new, modern production facilities and technology. Cristian Niculae explains: "In our opinion, a competitive market, the continuous investments and optimizations represent a guarantee of quality products and services. The dynamics of the Minet development has led to radically technological changes because we constantly and consistently invest in the state-of-the-art technology, and the choice of CAMPEN as a supplier for the slitter / rewinder has been no exception here."

Exemplary good communication, smooth testing and training
As it was impossible for Minet to visit Denmark during the COVID-19 pandemic, all meetings were held online, and the FAT was conducted via video. An Van Nguyen, Sales Manager of CAMPEN Machinery A/S, explains: "We are used to this process with some of our regular customers, but we were honored with the level of trust and faith that Minet, a first-time customer, has shown us." Cristian Niculae further explains: "From the beginning, CAMPEN has had very good and clear communication with us. Based on this as well as the recommendations from other suppliers, we had a high level of trust in CAMPEN from the beginning."
The slitter / rewinder was delivered at Minet's production site in Râmnicu Vâlcea, and the SAT was performed in the spring of 2022. The SAT and training went exceptionally well, as expected, and without any remarks on Minet's part.
Cristian Niculae sums up: "We are very satisfied with the machine and how the whole project was handled. We would highly recommend CAMPEN as a supplier of high-end winding technology."