CAMPEN delivers airlaid production line for high-absorbent and sustainable airlaid product
CAMPEN has delivered a complete, new airlaid production line to Magic Srl in Italy.
The airlaid line can produce several types of thermally bonded airlaid products with or without tissue and nonwovens as carrier sheet. In their choice of supplier, Magic specifically emphasized CAMPEN's ability to process their patented Spongel product, know-how about product development and technical experience of airlaid production and design.
Transforming Magic Srl from converting company to production company
Before investing in the new machinery, Magic acquired airlaid from external suppliers and was highly specialized in converting airlaid for the food, medical, personal care and safety and cleaning industries.
A few years ago, Magic developed Spongel, a super-absorbent, biodegradable powder, and from there the need to develop and produce their own airlaid arose. Mauro Giani, owner and CEO of Magic Srl, states: "Our need was to produce a new kind of high-absorbent and sustainable airlaid containing Spongel. After Spongel development, we focused our efforts on the application of the powder in the airlaid material, and we realized that we needed to be able to control the whole production process."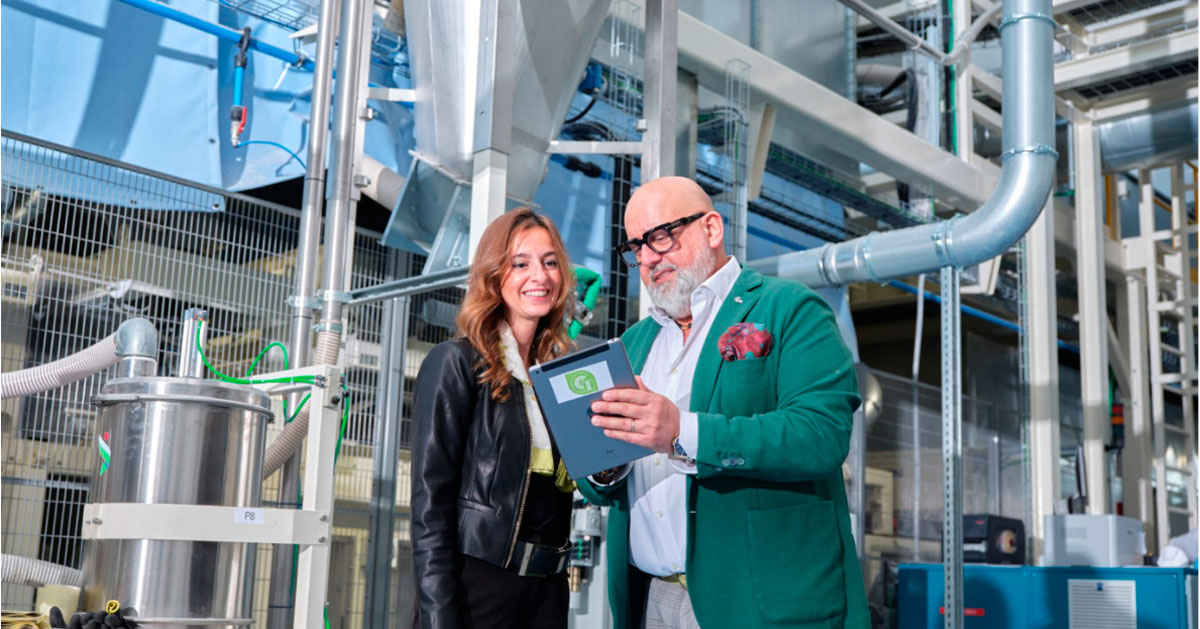 Mara Galli, CFO of Magic Srl, and Mauro Giani, CEO of Magic Srl, in front of their new airlaid production line
Technical partnership with CAMPEN
When Magic had decided upon purchasing their own airlaid line, they contacted an airlaid technology expert in Italy, who, based on experience, recommended hiring CAMPEN. The expert assessed that CAMPEN had great airlaid machinery knowledge and the right competence and experience with combining sustainable product development and high-quality machinery. Mauro Giani says: "We looked for a supplier with experience within airlaid lines with whom we could form a technical partnership. We found that with the CAMPEN team."
Together with CAMPEN, Magic carried out tests of their product in an airlaid testing facility with CAMPEN's equipment and was convinced by the results and competencies of CAMPEN. "The airlaid material that was developed after the test surpassed the expectations we had for the material", says Mauro Giani.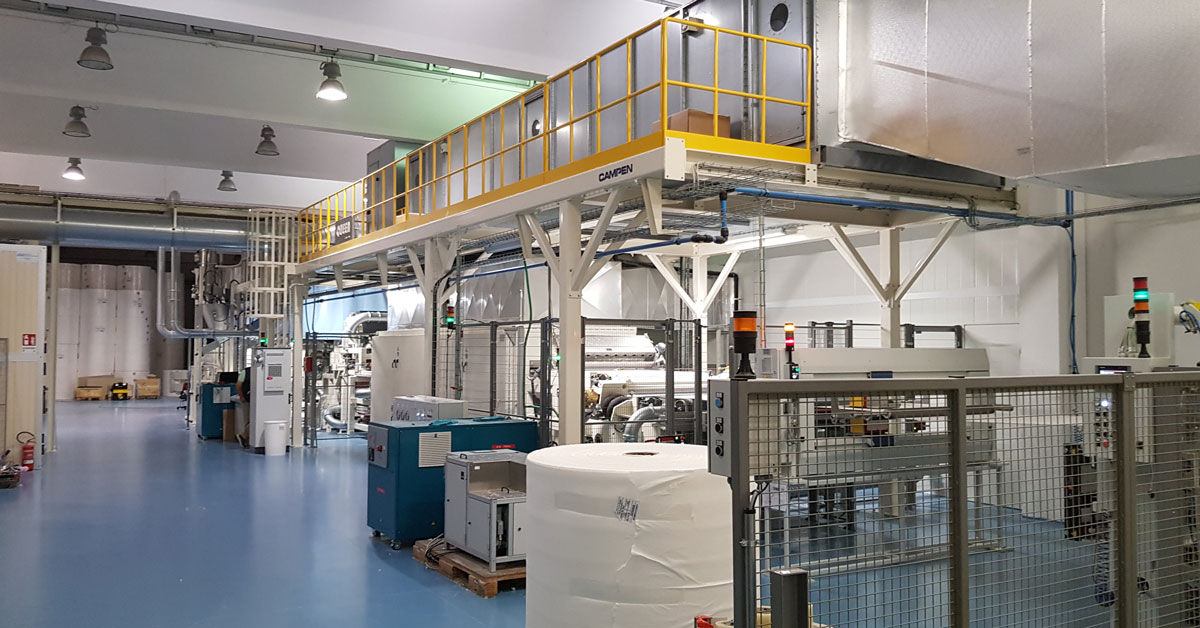 Complete, turnkey airlaid production line at Magic Srl in Italy
Effective solutions for innovative product
The CAMPEN airlaid line was delivered in late 2019 and consists of hammer mill lines, fiber opener, drum forming heads, SAP dispenser, compactor, thermal bonding oven, calender unit with cooling zone, process air filter and humidification system. An unwinder for tissue, a winder for final winding of the product as well as a metal detector and in-line scanner system for measuring g/m² are also part of the line.
The start-up of the machinery was running smoothly until a global pandemic took hold of Europe in the early spring of 2020. Mauro Giani elaborates: "Unfortunately, the COVID emergency has lengthened the start-up times, but CAMPEN has always proved to be available and open to find effective solutions to limit the critical issues caused by the limitations imposed by the pandemic."
Due to the COVID-19 situation and travel restrictions it was not possible to complete the airlaid production line before June 2021 when the line was finally approved at customer factory testing. Mauro Giani states: "The high-tech airlaid machine from CAMPEN transformed us from a converting company into a production company, as well as making it possible for us to create Airgel, a very exclusive and innovative product with Spongel."
 >> Read more about our complete turnkey airlaid production lines
>> Read more about our airlaid testing facility
>> Read more about Spongel (link to Magic Srl website)