Reverse Roller Applicator
Perfect bond of woven carpets
The reverse roller applicator is used for pre-coating of tufted, woven and needle felt carpets in order to achieve a perfect bond of woven carpets without penetration of latex. In this way, the locks of the tufted carpet are bound to the primary backing and as far as needle felts are concerned that the fibres are bound to one another on the back.
Adjustable speed and penetration
The speed of the doctor roller is adjustable in relation to the line speed. In this way the rate of pre-coating can be varied – even with the same viscosity. Thanks to the adjustable load of the contact rollers the penetration into the carpet can be varied.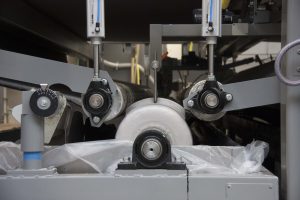 The CAMPEN direct spreading system for carpet pre-coating with foamed pre-coat gives you a lot of advantages, such as:
Easy and fast change between various types of compounds
Even and exact application across the carpet
Quick change of application during operation by raising / lowering the doctor roller and/or adjusting the foam density
Easy and fast cleaning
Almost no waste of compound viscosity by change of foam density for penetration control
Improved fibre lock
Compound savings up to 5% compared to traditional reverse roller coating systems
Working width – acc. to line width
Rotation – with / against carpet direction
Doctor rollers are chromium plated and water cooled
Carpet supporting table with deflection compensation facilities
Automatic quick-lift of doctor roller when joints are passing
Setting of doctor roller as balanced load on the carpet or gap with digital read-out of setting
Foam distributor with infinitely variable speed control
Side limit plates with selfage alignment