Pressnip pre-coating system
Accurately controlled penetration
The rotating top roller squeezes the latex compound into the fibres under pressure. Consequently, the bond between the individual fibres and between the fibres and the primary backing is improved.
This method results in a measurable improvement of the carpet quality and a possible reduction of the rate of pre-coating in the area of 5-30% (depending on carpet type).
The "floating" roller has an infinitely adjustable load on the carpet, which is continuously monitored and controlled. The load or gap can be set separately at the left or right side. Therefore, the latex compound can be applied evenly, irrespective of an uneven carpet thickness across the width.
Furthermore, an individual selvedge alignment of the edge limit posts always follows the primary backing.
Improve product quality and reduce costs
The CAMPEN PRESSNIP can easily replace traditional application equipment. It will allow you to reduce application weight and/or costs as well as improve the tuft lock and fibre binding.
Feel free to contact us for a specific PRESSNIP solution, integrated in your existing backing line. CAMPEN also offers complete carpet backing systems, where the PRESSNIP is an integrated part of the solution.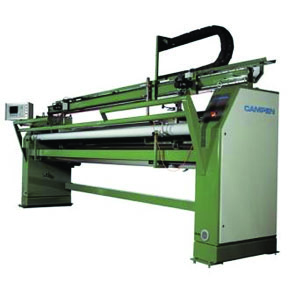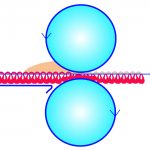 Improved tuft lock & fiber binding
Automatically controlled nip pressure and speed
Automatic foam bank control
Continously measured by means of a laser scanner
Pre-coating reduction by 5-30%
Increased production speed – reduced costs
Automatic monitoring of the size of the foam bank and subsequent correction of the preselection of foam density. This ensures that the required rate of pre-coating is constantly as requested
Communication with a CAMPEN mixer from the monitor of the PRESSNIP pre-coating system
Adjustable gap setting gives a certain layer on top of the carpet back
Pre-programming parameters for each carpet quality
Carpet width:
Up to 5 metres
Nip pressure:
Up to 100 kg / metres
Repetition accuracy:
± 1%
*PRESSNIP with other specifications can also be supplied