Foam Table
The CAMPEN foam table helps apply foamed latex or the like on the back of tufted and needle felt carpets, artificial turf or textiles in the rate and volume required.
The foam table has an automatic foam distributor with infinitely variable speed regulation, position stops and reversible direction movement independent of position.
Monitoring and adjusting the foam bank
The size of the foam bank can be monitored and adjusted in order to compensate for deviations in the absorptivity and pile height of the carpet. The CAMPEN foam applicator can be succesfully integrated in any production setup, but the most optimal results are seen in it's unique collaboration with the automatic CAMPEN mixer.
Ensuring a uniform compound
The foam applicator has a water-cooled doctor roller, diameter 240 mm, of thick-walled steel tube which is turned, ground and hard-chromium-plated. The distance between the doctor roller and the carpet can be manually adjusted to achieve the foam thickness required. Optionally, the height of the doctor roller can be controlled automatically by means of servo motors according to the height of the foam bank to obtain a constant foam thickness.
The supporting table is prepared for connection of a temperature stabilising water circuit. This prevents possible deflection caused by induced heat from the carpet, and consequently uniformity in the foam thickness is ensured. The supporting table can be adjusted to obtain parallelity with the doctor roller or alternatively the doctor blade.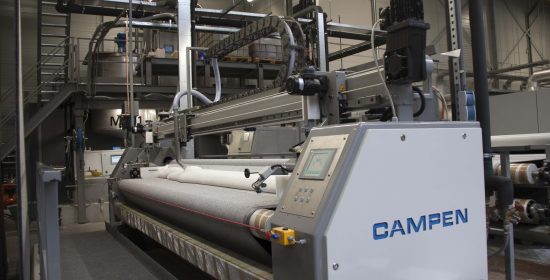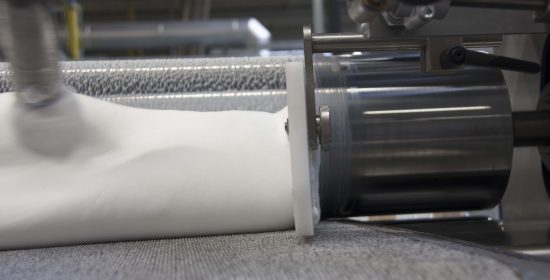 Edge limit posts for the foam bank. Individual selvedge alignment of the edge limit posts following the primary backing selvedge.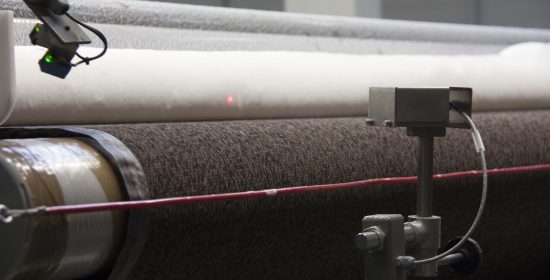 Measuring of the compound density.
Size of the foam bank can be monitored and adjusted
Automatic foam distributor with infinitely variable speed regulation, position stops and reversible direction movement independent of position
Working width: According to line width
Rotation: Periodically for cleaning purposes