Split-zone backing dryer
The full split-zone backing dryer, with separate air circulation and temperature control in the top and bottom chambers, provides a high temperature difference above and below the carpet. In this way, the carpet back can be dried using a high temperature while the heat-sensitive pile is protected.
Furthermore, the exceptional design of the air circulation system and the specially designed air nozzles with double slit ensure an optimum and even distribution of air and heat so that the drying temperature is uniform over the entire carpet width.
The fresh-air intake can be regulated manually and is prepared for heat recovery of already used air. Thanks to a very efficient recirculation of the hot air in the dryer, a very low energy consumption is kept.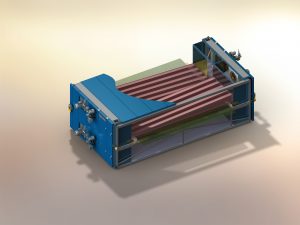 Uniform drying temperature thanks to double slit nozzles
The specially designed air nozzles in the CAMPEN split-zone dryer have double slits, which guarantee an exact and even air and heat distribution. Furthermore, the slot-type nozzles guarantee that any potential pollution will either be self-cleaned or distributed evenly in the nozzles, and therefore no impurity will be seen on the carpet.
The bottom nozzles with cushion effect will contribute to give a "float on air" effect and thereby give further support to the carpet.
All nozzles in the CAMPEN split-zone dryer can easily be raised individually for periodical check.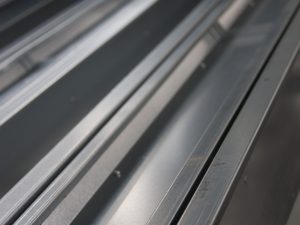 Backing dryer stenters – the right choice to meet your specific needs
Depending on the customers' needs and production, CAMPEN offers three types of stenters:
Roller bearing stenter, which is a lightweight and very applicable stenter, usually used for high-speed lines.
Sliding chain with oil, known for its durability and longevity. This stenter also has replaceable wearing parts so that maintenance and service costs are kept at a minimum.
A combination of stenter and belt can be offered, which is ideal for multipurpose lines as well as for the production of woven carpets which are too heavy to be handled by stenters.
Thanks to the separate drive of the right and left stenter chain, it is possible to correct for skews or skewed needling. Photoelectric selvedge alignment of each wing ensures a correct engagement of the needles on the selvedge.
Our CAMPEN dryer can be purchased separately or in a complete backing line. Learn more about our complete backing lines.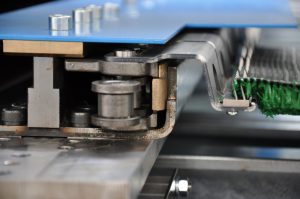 Quick installation with modular built sections – minimum installation costs
No special foundation needed – possible to install on platform or floor
Installed on wheels to make sure that it can expand
Easy to extend
Easy access for service & maintenance of the backing dryer
Working width: up to 5200 mm
Length per section: 3/3.75 m
Motor size per section: 2 x 11 kW
Fan capacity: each 200 m³/min.
Exhaust system: central
Heating system: steam, thermal oil or gas